I grew up in New Mexico, and we would eat this concoction my mother always made which she called "Green Chile Mashed Potatoes", or Potato Dish for short. They are always a hit with people during Thanksgiving or Christmas time.
Ingredients
7 lbs of yellow mashed potatoes
1-1.5 lbs of sour cream
1-1.2 lbs Monterey Jack Cheese
2 cups of chopped New Mexico Green Chile
Sea Salt
Pepper
Directions
You can peel the potatoes if you want, but some people like the skins. Just be sure to wash off any dirt if you leave the potato skins. Put a large pot of water on the stove and throw the potatoes in when the water is boiling. Boil the potatoes for about 20-30 minutes. You know they're done when a butter knife can be inserted into the potato with ease.
When the potatoes are cooked, strain them into a large pan for mashing. Go ahead and throw in the sour cream to-taste and mix it in. Dump in your green chile to taste as well, and mix it together. Finally, throw in some sea salt and pepper to taste.
Great! Now plop the mashed potatoes and friends into a 9" x 13" Pyrex type cooking dish. Smooth it all out so everything is even.
Now cut your block of Monterey Jack cheese into rectangular shapes, and stuff them into the potatoes. Use the entire block of cheese! Stuff 'em in there good! It should look like this: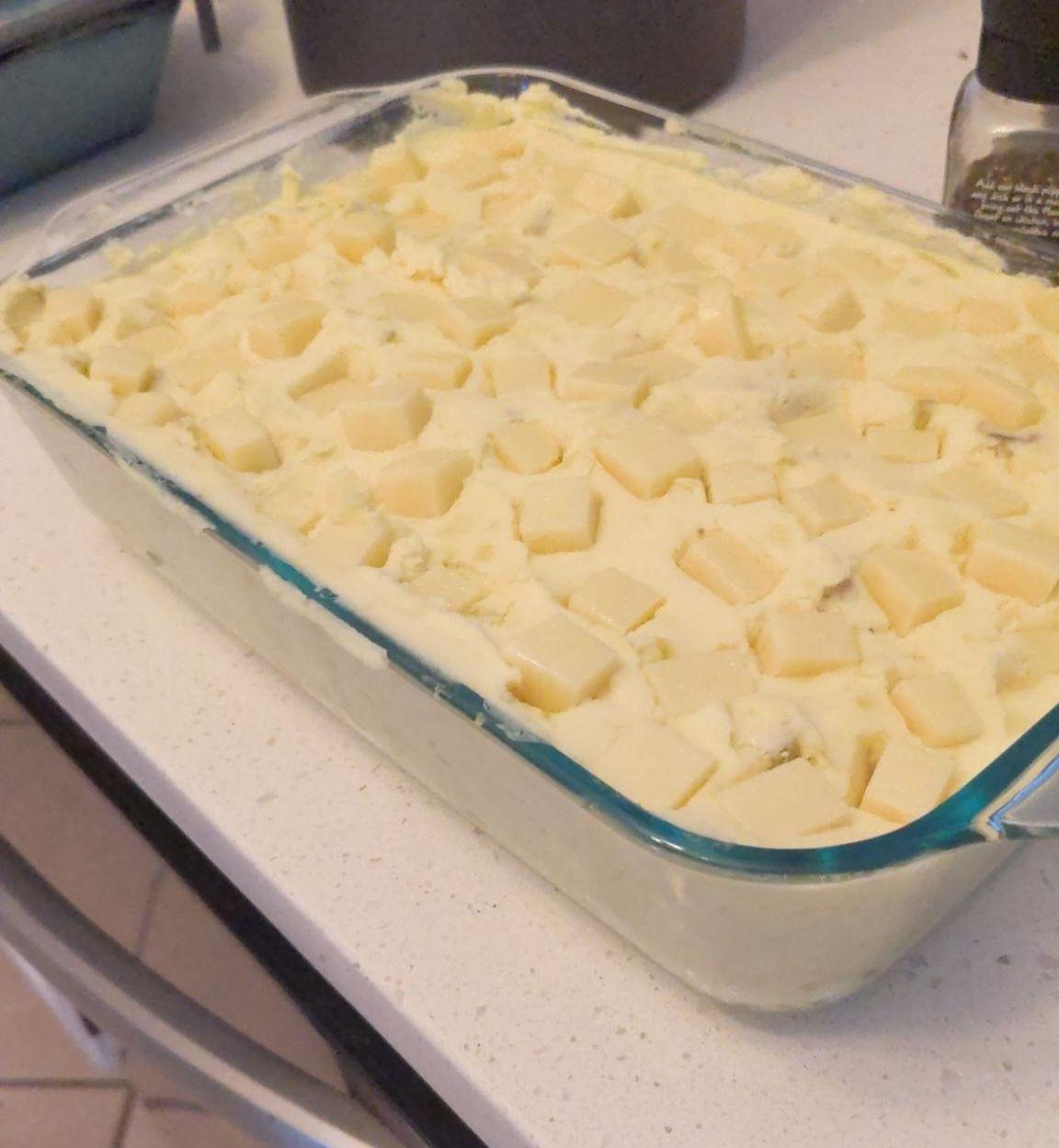 Cook it!
Ok cool, now time to cook everything. Preheat your oven to 375 degrees. Place a piece of foil on the potatoes then put it in the oven and cook for 45 minutes. At the 45 minute mark, take off the foil and cook for another 15 minutes. Keep the potato dish in the oven until there's a nice golden crust.
Conclusion
Take it out of the oven, let it cool a bit, and serve!
---
Were you blown away by Green Chile Mashed Potatoes?